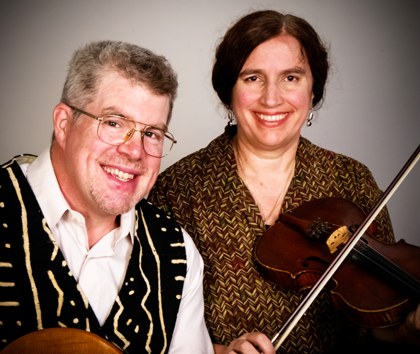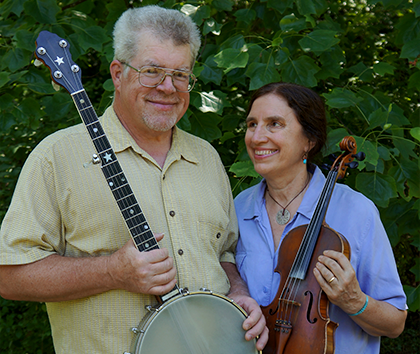 "Your warm and lively music created a joyful and festive atmosphere."—S.J.S., Oakland Museum
Private Events
Music from the Blue Ridge Mountains of Virginia
Kim and Jimbo Cary have been performing music in Central Virginia for over 20 years. They have performed at numerous venues in Charlottesville, Albemarle County, and across the Commonwealth — including: Monticello, Castle Hill, Ash Lawn, Montpelier, Wintergreen, Red Hill, Michie Tavern, Pharsalia, and more.
Their music has been presented at cultural centers, museums, festivals, concerts, and private receptions in over 50 cities and counties across Virginia. Jimbo was awarded first place in the Virginia State banjo contest and the Carys have been nominated for the Governor's Award for the Arts.
"What a great addition your music was to our event last week. It was perfect."
-S. James, White Hall , VA 
Outdoor receptions are a specialty. This refreshingly intimate music creates a warm and inviting atmosphere as guests arrive. The music becomes festive and lively as guests move towards the dining area.

Instrumentation includes mandolin, guitar, banjo, fiddle, woodwinds, and more.
The repertoire includes old-time southern mountain music, celtic jigs, reels and airs, acoustic roots music, and old-time bluegrass.
Details: The Carys perform as a duo, and they are also available to perform as a trio and quartet along with other accomplished musicians. They provide a professional quality sound system and upon request, they will also provide sound amplification for ceremonies or toasts. Kim and Jimbo's music is perfect for ceremonies, receptions, the cocktail hour, and the dinner hour.
"Your warm and lively music created a joyful and festive atmosphere."
-S.J. S., Oakland Museum  
Background music for receptions
During the cocktail hour and dinner hour, the Carys provide a set of background music that includes authentic old-time banjo tunes, flat-pick southern guitar duos, and celtic melodies creating the perfect atmosphere for conversation and dining.
Mini-concert for evening entertainment
When dessert is served, Kim & Jimbo may perform a short and informative mini-concert of Virginia music on banjo, guitar, fiddle, mandolin, bones and more. Call or email for details.
"Amazingly talented duo"
Dance option
Dance: Kim and Jimbo and their band are available to call a Virginia Reel, a traditional Virginia  Big Circle Dance and other specialty dances. These "mixers" are suitable for all ages and fill the air with laughter and big smiles all around.
"Delightful!"
Create the atmosphere you desire at a price you can afford.