Music Performances for Seniors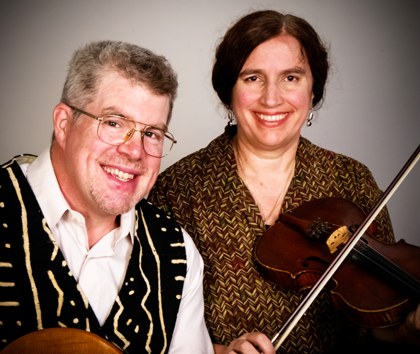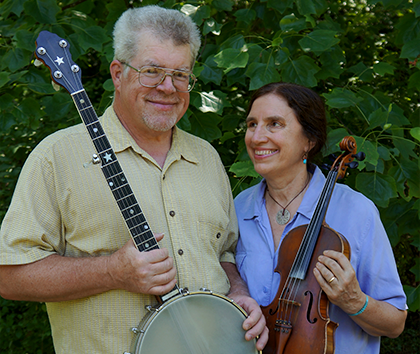 "Your warm and lively music created a joyful and festive atmosphere."—S.J.S., Oakland Museum
Kim & Jimbo have been performing their lively blend of acoustic music for audiences of all ages for over 20 years.
Choose from several unique musical programs for seniors. A performance may include several "old favorites" and a "mini-set" of new or seasonal material.
---
"You both are so talented and do a great job keepin' the old tunes alive
as well as generating new ones."
"Your songs were delightful"
---
Sample performances
Virginia Music
· Wildwood Flower/ Freight Train: played on fingerstyle guitar and flatpick guitar
· Great Grandma's Song: the  story of Ruth Graves – an old-time quilt maker from Nelson County, VA.(photo). Kim & Jimbo will bring a display of her quilts (see below)
· Cumberland Gap: an Appalachian fiddle tune performed on fiddle and 5-string banjo
· Wreck of the Ol' 97: a song of the trainwreck that took place near Danville, VA
· Old Dan Tucker : performed on jawharp and bones  — with a short demonstration of how to play the bones. The audience is invited to play along.
· Clinch Mountain Home:  "Carry me back to old Virginia" from the Carter family of southwest Virginia
· Walter' Song: tells the story of Walter Sprouse , an old-time banjo picker from Albemarle County (photo of walter)
· Ashokan Farewell: a favorite from Ken Burns Civil War documentary
· John Henry and Snowdrop:  played on 5 string banjo — Jimbo won a blue ribbon at the Virginia State bano contest playing these tunes  (photo of jimbo at state contest) (include audio file of this)
· You are my Sunshine: an old favorite with new words by Jimbo
"We always want you to be happy
even though you're far away.
It will be a joyous reunion
when our sunshine comes back to stay."
· Glory Glory and Do Lord: old-time gospel favorites
· Jonah's Song:  you've heard the story of Jonah and the whale — this is a new take by Jimbo Cary
"Thank you so much for sharing your love of music with us."
Railroads and Rivers: Songs and Stories about Virginia's Rivers and Railroads 
Songs about railroad travel include: 
The Wreck of the Old 97 describes a 1903 train wreck in Danville. 
The New River Train is a popular song about a railway in southwest Virginia.
Floating Down the James by Jimbo Cary, describes batteau travel in the 19th century. 
Lynchburg Town is an antebellum song about transporting tobacco to Lynchburg.  
Instruments include guitar, banjo, mandolin, fiddle, harmonica and bones. 
The concert concludes with Old-time Gospel Sing-alongs.
"We love it when you are here. 
You have so much wisdom about the music."
Southern Banjo Styles, a short history of the banjo
You will hear the gourd banjo — originally played by African Americans in colonial times, the modern five-string banjo demonstrating clawhammer, up- picking and the 3-finger style that was originated and made famous by Earl Scruggs. Jimbo also has a tenor banjo that is played in Irish music.
December Concert: Rhythms Of The Season
A multicultural performance to honor world celebrations of the season (klezmer music to honor Hannukah, African rhythms and folksongs to honor Kwanzaa, a French carol, an Aguinaldo or Welcome Song from Puerto Rico – (sung in Spanish), and more. Old Christmas is beautiful air about when the animals speak at midnight on Christmas Eve.
January Concert:  Footprints In The Snow — music for wintertime.
(a good show for the month of January). Kim & Jimbo Cary will perform Footprints in the Snow and other lively songs to celebrate wintertime. Their instruments include fiddle, banjo, guitar, mandolin, and soprano saxophone. Jimbo won first place in the Virginia State banjo contest with his rendition of "Snowdrop" played on 5 string banjo. Cold Frosty Morning is an old-time fiddle tune played on fiddle and banjo. Footprints in the Snow was made famous by Bill Monroe and the Bluegrass Boys. You Are My Flower has the verse:
"When summertime is gone and snow begins to fall
You can sing this song and say to one and all
You are my flower that's blooming in the mountain so high."
Footprints in the Snow –  made famous by Bill Monroe and the Bluegrass Boys
Cold Frosty Morning/ Shady Grove – old-time music played on mandolin
Tashi Delek – a Tibetan song to welcome in the New Year – It means  "May all good things come to you."
Blue Ridge Railroad Line –  Jimbo's new song about the construction of the Crozet tunnel.
Breakin' Up Christmas – an old time hoedown played on fiddle and banjo
Lynchburg Town – a song about Lynchburg, Virginia played on gourd banjo
You Are My Flower  – 'when summertime is gone and snow begins to fall, you can sing this song and say to one and all…"
Wildwood Flower/ Keep on the Sunnyside  songs of the Carter Family of southwest Virginia.
Sail Away Ladies/ Snowdrop – featuring fiddle and banjo. Jimbo won a blue ribbon playing for this.
Russian Sher –  played on soprano saxophone
You are my Sunshine  – an old favorite with new verses by Jimbo Cary
This Little Light of Mine – an old favorite
"You made lasting memories"
February Concert: In Honor Of Our Presidents
A "miniset" for the month of February includes: Abe's Retreat, Soldiers Joy,  and Liberty. Kim & Jimbo will perform music in honor of President's Day, as well as some groundhog songs and a song to welcome in the Chinese New Year. You will also hear some Irish tunes and songs in anticipation of Saint Patrick's Day next month. They will play tin whistle,an Irish goatskin drum called the bodhran, and tenor banjo, in addition to fiddle, guitar, and mandolin.
Mardis Gras and Louisiana Cajun Music
another  "mini set" for the month of February — listen to The Mardis Gras Song, Mama Rosin, Jolie Blond, and more.
---
March: Celebrate Saint Patrick's Day
Music for an Irish Spring
Kim and Jimbo will sing songs and play tunes in honor of spring and Saint Patrick's Day. Tap your foot to lively jigs & reels, hornpipes & polkas.
The Friar's Britches: a lovely jig performed on mandolin and bouzouki (octave mandolin)
O'Keefe's Slide: a rousing slide performed on Irish tinwhistle and bodhran (Irish goatskin drum)
Cockles and Mussels: a beautiful song from Dublin about Molly Malone
9 Points of Roguery/ Ships a Sailin'/ Swinging on a Gate: three Irish reels performed on tenor banjo and guitar
Loch Erne: a sean nos (unaccompanied) song with a chorus we can all sing along.
Planxty Fanny Power: from the Irish harper, Torough O'Carolan
Patrick Was a Gentleman and Kerry Polkas: a song about Patrick driving the snakes from Ireland.
Galty Hunt and Merry Blacksmith:  a hornpipe and a reel – good for dancing
Blue Ridge Railway Line: an original song from Jimbo Cary about the construction of the Crozet tunnel.
The Butterfly: an Irish slipjig performed on fiddle and guitar
June/July Summer Concert – Old-time Fiddle Conventions
In honor of Galax and other old-time summer fiddle conventions, Kim and Jimbo will play and sing I'd Rather Be an Old-time Fiddler and other favorites on banjo, fiddle, guitar, and mandolin.
Jimbo will also sing Camptown Races, written by Stephen Foster in 1850 and became a national favorite. Kim will sing another horse race song, Molly and Tenbrooks made famous by Bill Monroe and his Bluegrass Boys.
The Carys will also perform favorite songs from the "Sunday Morning Gospel Sing".
"Your music added so much fun and festivity!" – R.B. , Monticello
Bones Workshop
Learn to play the bones, spoons, and other instruments while Jimbo plays the banjo. (a "miniset" that can be included within a larger performance).
The Music Of Europe
 A french waltz, La Valse Des Jeunes Filles,  Miserlou from Greece, Breton Dances, a tarentella, an Irish stepdance, a Scottish Song, East European frailachs, and more.
Train Songs
such as The Wreck of the Ol 97, Train 45 or Reubens Train, New River Train, Freight Train, Railroad Bill. (available as a miniset within a larger performance).
Rhythms 'Round The World
A world music performance includes an Irish slipjig, a Mexican Waltz, an East European frailach, a Russian Sher, and West African music played on balafon (wooden xylophones from Guinea)
Gospel Favorites
Do Lord, Glory Glory, River of Jordan, This Little Light of Mine, and other gospel favorites.
"Your warm and lively music created a joyful and festive atmosphere."
mini-concert of Scottish music
In a mini-concert of songs and stories from Scotland, you will hear a medley of Flowers of Edinburg and Hop High Ladies also know as Miss McLeod's Reel — performed on mandolin and guitar.
Jimbo sings Loch Lomond  which is followed by a lively rendition of Scotland the Brave.
Joc Tamsons is a toe-tapping reel from the Hebrides.
Lord MacDonald's Reel is know in America as Leather Britches.
Sing along to The Wild Mountain Thyme, a well-loved, traditional folk song.